Social Media, Its ways of our excellence. Make the right move, Social Move!
Social Media beyond expectation. The right decision for your marketing strategy. Building your brand with a passion.
Paid social media or social advertising is one of the most effective and popular digital marketing techniques to boost conversion rates for businesses. Social media advertising involves the display of sponsored content, or paid social ads, on different types of social media platforms, such as Facebook, Twitter, Pinterest, Tik Tok, Instagram, LinkedIn etc. It is all about targeting particular customer demographics.
We work with you, our client, to develop a strategy that fits your needs, goals, and identity as a business. We will conduct an analysis of your niche, learn about the current level of competition within your field, and formulate a campaign tailored around those details.
Cookie-cutter solutions won't work for businesses with unique marketing needs. We've structured our workflow processes to help your business reach its full potential.
In a world of clutter and mixed sentiment, does your brand stand out?
Social Media Ads Management Services
With the help of social media advertising, you can direct campaigns to particular audiences according to different criteria, such as:
Type of device used
Interest area
Online behavior
Age
Location
When compared to other online marketing initiatives, it is possible for you to pay only for the number of impressions or clicks that your social ads get, when they are up and running. Due to this reason, as a marketing strategy, social advertising offers higher returns on investment. It is important to hire a premium social media ads management company, to set up proper campaigns and oversee them, in order to ensure success for your business and boost your bottom line.
Some popular social media advertising platforms that you can get for your business
Facebook Advertising
Facebook ads management or Facebook advertising leverages different types of social ad formats, like:
Carousel ads
Poll ads
Video ads and
Image ads
These can help generate audience interest in your products and services. It can be easier to move leads along your conversion funnel with this type of advertising. Facebook ad Management services are recommended by Facebook advertising companies to all those businesses that want to micro-target specific audiences and get instant results. Generally, Facebook social networking ads are approved in only 24 hours. This can make it very convenient for you to achieve sales in just a few days.
Typically, a Facebook ad management company schedules a meeting with your sales team in order to have a proper discussion about your Facebook ad campaign objectives. Your team can get guidance about Facebook ads strategy development. After your Facebook advertising requirements and demands are settled, a customised Facebook ad campaign is launched on the basis of your specific targeting needs. You can get expert fb ads agency ad management specialists to install an Analytics tool called "Facebook Pixel" on your site, for easy tracking of visitor activity (to see how many visitors come to your site after checking out your Facebook ads).
LinkedIn Advertising
Advertising is recommended to all B2B marketers or Business to Business marketers, who want to optimize the effectiveness of social media advertising for higher amount of lead generation. If you are targeting industry experts and C-suite professionals, you will obviously benefit with LinkedIn advertising. When you advertise on LinkedIn, you can get a much higher level of accuracy in targeting - which is impossible with even the best social networking platforms available for business. It is possible for you to get access to a wider audience and have accurate market data, as well as many different types of Ad formats, such as:
Dynamic ads
Sponsored ads
InMail ads
Text ads and
Sponsored content
You have to hire a social media advertising company that has many years of expertise in LinkedIn advertising. It should be committed to establishing your expertise in the industry and achieving the advertising goals on LinkedIn that you have. The best agencies can help you easily, in getting access to your targeted clients, and have them move further along the sales conversion funnel. With LinkedIn advertising, you can narrow down your targeting through different variables that are industry-specific, such as:
Job function
Industry type
Company name
It is important to create compelling ad copies integrated with easily apparent call-to-action messages.
Instagram Advertising
Instagram is used by around 1.07 billion active users across the globe. You can easily understand how close Instagram advertising comes to Facebook advertising, as far as attracting followers and boosting brand engagements are concerned. Fantastic opportunities are offered by this type of advertising, for businesses of any size and type. With Instagram advertising, it is possible to boost audience growth through creative ad formats and sponsored content.
It is also a common practice for social media advertising agencies to have Instagram advertising campaigns integrated with Facebook ads Manager, in order to get access to many targeting options as well as optimization choices that can make ads management a more streamlined process.
While advertising on Instagram, Instagram Insights is used to determine the performance of your content as well as profile activity. A custom Instagram advertising campaign is launched, to boost your brand value. Your ad objective, such as more traffic to online store, more number of app installations, greater brand awareness etc is determined by the social advertising agency. Experts choose the placement of your ad, define budget for your advertising and schedule as well as choose the most suitable Instagram ad format - for satisfying your specific business objectives.
Pinterest Advertising
If Pinterest advertising is most sensible for your business, go for it! Start advertising on this social platform and harness its full funnel marketing potential for your brand. Pinterest has a growing population of active users, amounting to 400 million every month. It is one of the most cost-efficient social advertising and media channels for showing your social networking advertisements and boosting your goal completion rate. Similar to Facebook advertising, there is a Pay for Placement or P4P system in Pinterest advertising. In other words, you can pay for promoting your own Pinterest ads on the Product Pins of your choice.
Social media advertising management agencies can use data driven Pinterest advertising strategies that make the most of your budget. Strategies centered on getting more sales and traffic to your website can be implemented. It is possible to optimize your ad images, refine your advertising schedule and use rich pins, to give a boost to your sales conversions. Pinterest advertising can also be used to complement Amazon sales marketing efforts of your business.
Snapchat Advertising
Snapchat is Essential for Brands Targeting the Youth Market
Snapchat has hit 100 million daily active users, surpassing Twitter's daily active user count. This milestone makes Snapchat one of the fastest growing apps of all time.
With Snapchat's significant penetration among teens and young adults, it is important for brands targeting this demographic to be on Snapchat. Brands are taking notice of Snapchat's impressive growth rate and are beginning to incorporate this messaging app into their social media marketing plans. The benefits that come with advertising on Snapchat make it a valuable platform that every brand should consider utilizing.
Why Snapchat Advertising?
There are several reasons why advertising on Snapchat should be a priority for brands targeting young adults. First, Snapchat has an incredibly engaged user base. According to a study by Millward Brown, Snapchatters are 2x more engaged than Instagrammers and 1.5x more engaged than Facebook users. This high level of engagement means that brands have an excellent opportunity to reach consumers with Snapchat campaigns. In addition, Snapchat boasts a high level of user interaction with the platform. Millward Brown also found that nearly half of daily users passively watched another person's story and 10% would send or ask for more information after viewing a snap or story.
This user interaction is highly valuable to brands as it means that their content will be viewed by real people who are already interested in what they have to say. As mentioned earlier, Snapchat has 100 million daily active users and adds an additional ~2 million new users each day.
Snapchat is also an excellent marketing tool because it provides brands with direct access to their audiences without needing to collect any data from them. Unlike Facebook and Twitter which require personal information from users in order to target them with ads, Snapchat allows brands to target their ads based on user interests and demographics.
Tiktok Advertising
TikTok is a social media platform that allows users to post 15 second videos. TikTok's unique interface provides an authentic way for brands, celebrities and TikTok creators to connect with individuals in their audiences. These relationships can be leveraged through TikTok ads to increase exposure and influence. Tiktok for business helps you tap into Tiktok's passionate and engaged user base to create powerful marketing campaigns.
One of the benefits of TikTok advertising is that it's a very cost-effective way to reach a large audience. TikTok ads are placed in the app's Stories section, which is one of the most popular areas of TikTok. Additionally, because TikTok is a growing platform, Tiktok marketing prices tend to be lower than similar marketing services on other social media platforms. TikTok advertising is also a great way for businesses to get creative with their ads. Tiktok offers an easy-to-use template system that allows advertisers to create original TikTok ads that are tailored to their brand, making it easier for the target audience to connect with the advertisement.
Let's collaborate
Got a project?
Let's talk.
We're a team of digital marketing experts who are always excited about challenging projects. We love helping businesses to maximize online exposure and get the best ROI.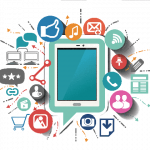 Social media ads management
Perhaps you are a social media manager at a small business or social influencer looking to grow your social platform. You likely spend hours everyday on social media, working hard to build up your following and engaging with them. However, social media algorithms that determine who sees what posts, competitors vying for the same eyeballs as you do, and apathy are all standing in the way of your social growth.
How can social media marketers overcome these obstacles to social success? One answer is social media ads management, which uses Facebook Ads to help you reach all audiences with relevant content that gets them coming back for more!
Social ads are a paid form of social media marketing that allows businesses and social influencers to place ads on social networks. Facebook Ads is the most popular social media ad platform, with over millions of active advertisers.
Lead Your Business to Growth
We create a customized approach for businesses in various industries which increase sales, maximize customer satisfaction, and take the guesswork out of advertising on digital platforms.